Like Raspberry Lemonade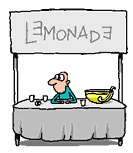 I HATED NOSTALGIA. Up until the Spring of 2021, I had avoided nostalgia like the plague. I hated the feeling of remembering a place I could never return to- my bedroom of 1999 playing Super Mario 64 until dinner time, or riding bikes with my friends to the river to talk about Runescape or Weird Al Yankovic songs.

I began writing a song called 'Raspberry Lemonade'. I wanted to recall the summers of my childhood and the strange fog that is nostalgia. Little did I know what that would do to me. I was teleported back to 1999- and while it hurt that I couldn't go back, I realized that nostalgia didn't have to be bitter- it could be sweet too, just like raspberry lemonade.

Nostalgia isn't just a reminder of the things past- it's a tool to remind you of how things were better or worse. We often remember things better than they were- but in the case of the custom internet- that's actually true.

My daughters are growing up on the commercial web. They don't remember message boards, and AIM profiles, and the joy of finding a website by chance. They lovingly give away every piece of themselves just so they can compete with others on apps like TikTok and Instagram for likes.

We've completely reduced the human experience that was extended by the custom interweb of the 90's and 00's by flattening it into microclips and sound bytes, all in search of the almighty dollar.

Not anymore! I'm tired of giving pieces of myself to faceless megacorporations- no, if people want a piece of me, they'll have to come to my house to play- to ring my doorbell and ask if Auzzie can come out and play- and no he won't be able to because we're about to eat dinner and it's a school night, but I'll let him know you were here.